2 x ELEPHANT-RULES – LARGE INDEX PLAYING CARDS Doppelpack
2 x Internationales Kartendeck mit großem Index mit 52 Kartenwerten + 2 Joker = 54 Karten mit Wertbegriffen.
Die Standard Karten für internationales Pokerspiel.
Die Werten zählen von Ass, 2, 3, 4, 5, 6, 7, 8, 9, 10, Jack, Queen, King.
Sprachversion: EN / DE
Format: 63 x 88 mm
Farben: Herz, Pik, Karo, Kreuz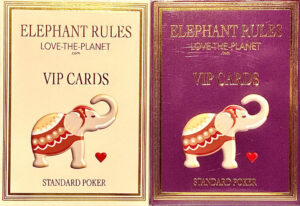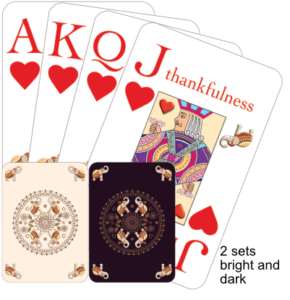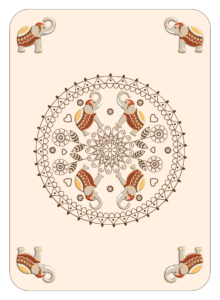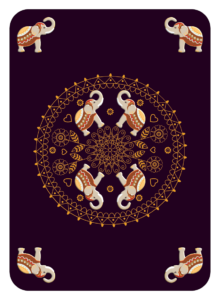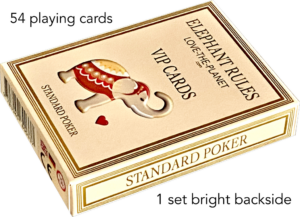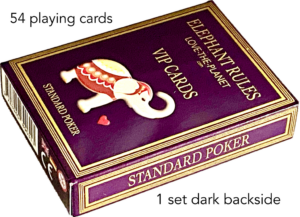 LOVE-THE_PLANET.com ist eine Initiative um über die Werte zu reden, die uns als Gesellschaft ausmachen und wichtig sind. 54 Werte und Eigenschaften haben wir aus einer Vielzahl von Begriffen ausgewählt und mit internationalen Spielkarten kombiniert. Voilà die VIP-Karten waren geboren.  Verschenke Werte im Kreis Deiner Freunde und Geschäftspartner. Mit jedem Kartenspiel hast Du die Möglichkeit, die (Deine) Welt zu verändern. Vielleicht ein klein wenig wärmer und verbindlicher zu machen oder herzlicher oder besser, oder …
Mach mit! Verschenke eine kleine BOX "Voll WERT". Auf jeder Karte befindet sich ein Wertbegriff in zwei Sprachen.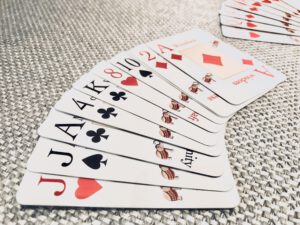 Achtsamkeit, Anerkennung, Begeisterung, Dankbarkeit, Ehrgefühl, Ehrlichkeit, Einfachheit, Einsicht, Erfolg, Fairness, Freiheit, Freude, Freundschaft, Frieden, Fürsorge, Geborgenheit, Gerechtigkeit, Gesundheit, Glaube, Gleichheit, Glück, Güte, Harmonie, Heilung, Hilfsbereitschaft, Hoffnung, Höflichkeit, Humor, Ich bin, Klarheit, Kreativität, Liebe, Loyalität, Meinungsfreiheit, Menschenwürde, Mitgefühl, Mut, Offenheit, Respekt, Selbstbestimmung, Selbstdisziplin, Sexualität, Sicherheit, Solidarität, Toleranz, Unabhängigkeit, Verantwortung, Verlässlichkeit, Verständnis, Vertrauen, Wahrheit, Weisheit, Zärtlichkeit, Zufriedenheit.
appreciation, benevolence, care, clarity, comfort, compassion, contentment, courage, creativity, enthusiasm, equality, fairness, faith, freedom of speech, freedom, friendship, harmony, healing, health, helpfulness, honesty, hope, human dignity, humor, I am, independence, insight, joy, justness, love, loyalty, luck, mindfulness, openness, peace, politeness, reliability, respect, responsibility, safety, self-determination, self-discipline, sense of honor, sexuality, simplicity, solidarity, success, tenderness, thankfulness, tolerance, trust, truth, understanding, wisdom.